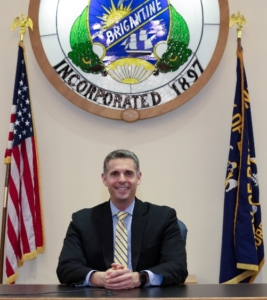 Mayor Vincent J. Sera began his service to the Brigantine community, in 1994 as a lifeguard on the Brigantine City Beach Patrol. Throughout his career, he has prided himself on being involved in all that the beach patrol has to offer. He was an instructor for Brigantine's swim lesson program at the City Dock, he coached the novice rowing program, and served as the beach patrol's assistant race director. Vince was a coach for the junior guard program and he helped to organize and run the BCBP Memorial Swim. Vince has also represented the City in almost every out-of-town competition for the beach patrol since 1999, earning both the doubles and singles titles for many of those years.
Vince graduated from Atlantic City High School in 1995. He continued his education earning a BSW at Syracuse University and an MEd at Lehigh University
Vince continues his public service as an educator at Oakcrest High School where he teaches United States History and AP Government. Vince is very involved in his school community in a variety of ways. He attends school plays and athletic competitions, chaperones school trips, and has coached crew, power puff football, and mock trial. Additionally, Vince has served as an advisor for the Social Studies club where he and his co-advisor put together many great community events for the students and staff of his school.
Over the years, Vince has had many opportunities to serve in leadership positions in both his professional and social communities. He was elected to Brigantine City Council in 2014. Vince currently serves on the Beach Committee as well as the Cultural Arts Commission.
Vince lives with his wife Jennifer and his two beautiful daughters Brielle and Rylie.