MOBILE BEACH TAG APP for your smartphone –  click on the Beach Tag below!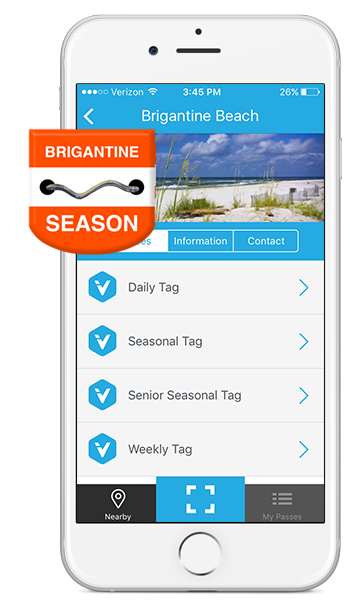 Chief Kip Emig
Brigantine City Beach Patrol
16th Street South & Beach
Phone: (609) 266-5233 (Summer Only)
Founded in 1938, the Brigantine Beach Patrol has grown both in numbers and the skills required of its members. Current manpower strength is 110 working guards, both male and female, with 11 officers.
Brigantine guards provide a 6 week swim lesson program that teaches almost 200 children water safety. Sign ups are always the first week of July.
Guarded beaches begin on the Memorial Day weekend. These beaches are 15th Street South, 26th Street South and 39th Street South (weekends only). Full staffed beaches always begin the third week of June through the Labor Day weekend. The Patrol offers limited weekend service during the month of September at 2nd North, 15th South and 26th Street South.
The American Red Cross has trained over 50 of our members in first aid with all of them certified as CPR instructors and 9 EMTs. Additionally, 7 members are water safety instructors.
In addition to keeping a watchful eye on swimmers, the beach patrol gives swimming lessons and water safety lectures to groups and schools. Added to this program is a skin cancer avoidance lecture and tidewater environment lessons. The Beach Patrol also operates a two-week 'junior lifeguard" program wherein up to 125 candidates, both boys and girls, come out and learn basic lifeguarding techniques and water safety, plus a "rookie camp" for first-year lifeguards. The Beach Patrol can also be seen overseeing such local aquatic events as the Lion's Club Mile Swim, the Elk's Club Bayfest and mile swim, the Red Cross Triathlon, and the Brigantine Waveriding Association's Surf Contests.
The Brigantine City Beach Patrol's primary coverage area is approximately five miles of beach. The patrol also responds to calls on an additional six miles of unprotected beach.
For information on beach tags, watercraft operation, 4-wheel drive permits, designated swimming and surfing areas, etc., see the Beach Info section.