Brigantine Police Department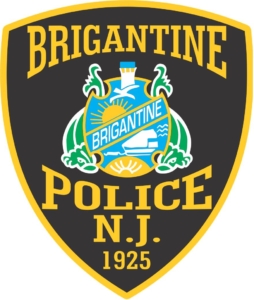 Chief Richard Casamento
Brigantine Police Department
1417 W. Brigantine Avenue
Brigantine, NJ 08203
Phone: (609) 266-7414
Emergencies: Dial 9-1-1
Mission Statement
The Brigantine Police Department, along with the men and women who fill its ranks, is committed to "Protect and Serve" every citizen, visitor, and business owner of our community with the most efficient and reliable professionalism expected of a law enforcement agency.   We are dedicated to preserving the constitutional rights of every individual, all the while respecting their dignity and humanity, regardless of race, religion, creed or gender.
Members of the department shall always display the department values of Integrity ~ Honor ~ and Protection.
Information about Body Worn Cameras (BWC)
The men and women of the Brigantine Police Department would like to inform the public that we are now wearing body worn cameras (BWC) in accordance with the New Jersey Attorney General Guidelines.
The implementation and use of BWCs has the goal of improving both transparency and police-community relations, increasing the trust between our agency and the residents, visitors, and business owners of Brigantine.
The documentation of police actions and encounters will enhance police investigative abilities while also allowing us to better inform the public of events that occurred and why police took the actions they did. This will also allow the Atlantic County Prosecutor's Office to better prepare for prosecutions of criminal offenders encountered by our officers.
We have deployed a number of Motorola Watchguard V300 body cameras pictured below. The cameras will record events from the officer's point of view and persons who interact with police officers will be recorded on our body cameras. If you have any questions regarding our new technology, please contact the Brigantine Police Department at (609) 266-7414.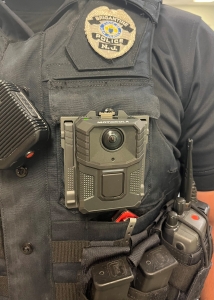 How do I Report a Street or Area Light Outage?
For Atlantic City Electric lights, click here to report the outage online or call (800) 642-3780.
Where can I find the City of Brigantine Local Ordinances
Click here to see the  Local Ordinance / City Code.
Firearms Permits
ATTENTION FIREARM APPLICANTS
The NJ State Police is announcing the statewide activation of the Firearms Application and Registration System (FARS).  Our Police Department will be implementing the on-line program on May 1, 2019.  All necessary information needed to apply is listed below.
Step #1: Visit the website – www.njportal.com/NJSP/fars.
You will be receiving automated email updates throughout this new process.
Once the application is complete, you will be notified
Please advise your references that the FARS system will email them the reference questions to be answered. Your references can complete the questions using a smartphone, mobile device, laptop or desktop computer.  Advise them to complete the questionnaire as quickly as possible in order to not delay the progress of your application.
The on-line application is application driven. Please ensure that you have entered the best phone number and email for yourself and your references.
APPLYING FOR A PERMIT TO CARRY A HANDGUN
You must schedule an appointment by emailing: [email protected]
If you do not schedule an appointment, you will be turned away.
Once you make your appointment, you will be required to have the following:
1. NJ Drivers License and Birth Certificate OR valid passport OR naturalization Paperwork/Green Card
2 One (1) State of New Jersey Application for Permit to Carry a Handgun (Form: SP642). It must be double-sided and notarized. Same may be found at: https://nj.gov/njsp/firearms/forms.shtml
3. Two (2) color Passport Size Photographs.
4. Consent for Mental Health Search (Form: SP066).
5. Written proof or ownership and qualification with handgun.
a. Proof of ownership can be a purchase receipt or purchase permit or a notarized letter of ownership listing make, model, and serial number of handgun.
b. Written qualification must be within six (6) months of application. *
6. Money order in the amount of $50.00 payable to "Treasurer, State of New Jersey".
7. Money order in the amount of $150.00 payable to the "City of Brigantine"
The New Jersey State Police website provides information on New Jersey firearms laws, transportation of firearms and frequently asked questions.  Visit https://www.njsp.org/firearms/index.shtml
Handicapped Parking Permits
Temporary Handicapped Permits are available from Brigantine Police Department.  Application forms are available Monday to Friday 8:30 am to 4:30 pm (excluding holidays) at the Police Records Department. The person's medical doctor must complete a portion of the application.  Permits are valid for 6 months and may be renewed for one additional 6 month period.  There is a fee of $4.00, payable by check made out to "N.J. Motor Vehicle Commission."
Permanent Handicapped Parking placards and plates are issued by the N.J. Motor Vehicle Commission, and those applications are available at any DMV office or online at NJ MVC.
Emergency Alerts
–
For Code Red Alerts: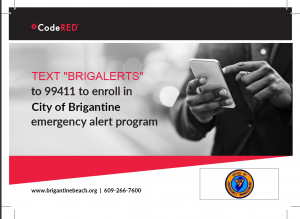 Follow us on the Brigantine Police Department Facebook for up to date information and news!
DIVISIONS
Administration
Police Administration is comprised of Chief Casamento, two captains, and one sergeant.
Captain Thomas Wodazak is the Detective Bureau commander and also oversees the Office of Professional Standards and Internal Affairs.
Captain William Hoffman is the Patrol Division commander and oversees all day to day operations of our uniformed patrol officers.
Detective Bureau
The Detective Bureau is responsible for conducting criminal investigations that occur within the City of Brigantine as well as criminal investigations that have a nexus to our city and community. Our detectives diligently pursue all investigative leads and information gathered as well as collect, process, and analyze evidence. They are trained in specialized areas of criminal investigation that enable our department to respond to a diverse range of crime scenes and volatile incidents.
Brigantine Police Department detectives maintain partnerships with other municipal law enforcement officers as well as our law enforcement partners at the county, state, and federal levels of government. These relationships allow us to share critical information and resources to achieve the common goal of maintaining safe communities in our area.
Patrol
Patrol Division officers are those who you see in the Brigantine community on the most frequent basis, as they are the men and women in uniform who patrol the City of Brigantine 24 hours a day, 7 days a week, 365 days a year. The primary function of the Patrol Division is to respond to calls for service and emergencies as well as conducting preliminary investigations of crimes and offenses that occur within the City of Brigantine. All of our officers are trained in basic life support functions to include CPR and first aid, and a group of our officers are trained and certified Emergency Medical Technicians (EMT). Officers carry life saving equipment with them each shift, including automated external defibrillators (AED) and remain ready to respond to medical emergencies along with the Brigantine Fire Department. Our officers also participate in active shooter and critical incident response training in order to ensure our operational readiness.
Communications
The Communications Division is comprised of eight full-time dispatchers as well as part-time dispatch staff who work 24/7 to field incoming phone calls as well as 9-1-1- calls. Emergency Dispatchers are trained in coordinating appropriate police, fire, and EMS response and are also trained to provide instructions to callers to begin life-saving measures in the event of a medical emergency.
Records
Our Records Division is managed by Ms. Colleen Felix who oversees the proper handling and dissemination of police reports and other pertinent documentation within our department.
Requesting a copy of a police report: You may request a copy of a police report by filling out a Records Request form and e-mailing it to [email protected]. After a police officer responds to an incident or takes a complaint, he or she completes the appropriate report(s). These reports are then reviewed by a police supervisor, and then are forwarded to the Records Division for filing. Please understand that this process takes approximately 7-10 business days.
Tips
If the information you have pertains to a crime that has already been committed or the whereabouts of a person wanted for a crime, please call Brigantine Police at 609-266-7414 or contact the ATLANTIC COUNTY CRIME STOPPERS at 652-1234 or 1-800-658-8477 or by visiting their website. Callers will remain anonymous and tips that lead to successful investigations may be eligible for cash reward.
Office of Professional Standards (Internal Affairs)
Reports or complaints of officer misconduct can be submitted in person or anonymously. Completed Internal Affairs Reporting forms can either be dropped off at the police department or mailed to:
Brigantine Police Department
Attn: Office of Professional Standards
1417 W. Brigantine Avenue
Brigantine, NJ 08203
Phone: 609-266-7414
Fax: 609-266-1066
Complaint Information Forms (Choose Language)
Internal Affairs Report Forms (Choose Language)
Annual Major Discipline Reporting
Annual Internal Affairs Summary
Brigantine Police Department Recruitment Plan
Introduction
The goal of the Brigantine Police Department Recruitment Plan is to attract qualified individuals to pursue a career in the Brigantine Police Department. The objective is to achieve an overall racial and gender composition of the department in comparison to the service population of the City of Brigantine as well as the State of New Jersey. The Brigantine Police Department hopes to achieve these goals through innovative and proactive recruitment. This agency will act in good faith to meet the goals of employing a diverse work force to include color, ethnicity, and gender diversity. Through the plan of action listed later in this memo, the Brigantine Police Department will attempt to accomplish adaptive recruiting processes to achieve the objective of a competent and diverse work force.
General
The Recruitment Program was established in 2022 in compliance with the New Jersey Attorney General's Guideline, Promoting Diversity in Law Enforcement Recruitment and Hiring. To accomplish the requirements set forth and ensure that the Brigantine Police Department was hiring the most diverse and qualified individuals who represent our community, we examined the United States Census information regarding the population of Brigantine and the State as a whole. After evaluating these statistics, we have developed a comprehensive Recruitment Plan that will introduce and recruit diverse candidates with a focus on underrepresented individuals.
The Brigantine Police Department is an equal opportunities employer. The Chief or his designee is responsible for the administration of the Recruitment Plan.
Recruitment Plan
Identify and maintain contact with local organizations and support groups including but not limited to: education, religious, ethnic, racial, and gender-based organizations.
Activities include but are not limited to:
Provide recruitment information to educational, religious, ethnic, racial, and gender-based organizations.
Contact educational facilities which include, high schools and colleges to provide recruitment information, and with their permission, participate in career days and job fairs.
Initiate recruitment in areas outside our local geographic area to attract a more diverse applicant pool.
Utilize a digital application format, available to anyone with a smart phone or computer at any time.
Advising of the hiring process through online means to include our website and social media.
Develop a recruitment team who will facilitate interactions as well as create literature to be dispersed to prospective applicants.
Evaluating prior life experience and talents outside of traditional prerequisites during the interview and background evaluations.
Utilize the Police Training Commission's minimum standards when conducting pre-employment physical fitness evaluations.
Summation
The Brigantine Police Department has developed a Recruitment Plan to hire and retain the best applicants, with a focus on creating diversity within the ranks of the department. This plan will be consistently monitored and evaluated to ensure the department is in compliance and ensuring the best hiring practices are being utilized.