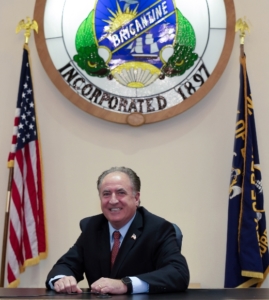 Mike Riordan first joined Council when he was elected as Second Ward Councilman in November 2016.  In 2018 he was elected to the Council-at-Large seat. Councilman Riordan currently serves on the Economic Development Committee, Cultural Arts Commission and the School Board of Estimate Committee.
Mike has been heavily involved in the community through the years, particularly with youth sports. He is a member of St. Thomas Parish, Knights of Columbus #7020, Brigantine Elks Lodge #2428, Brigantine Lions, Brigantine Polar Bears Committee, Atlantic County A.O.H. Div. 1 and is a Past President of Atlantic City St. Patrick's Day Parade Committee. Mike is proud to support the Veterans, Special Needs Children and a variety of other Local Charities.
Mike attended Rutgers and Fairleigh Dickinson Universities and is retired from Verizon & IBEW Local 827. He is a Realtor with Berkshire Hathaway, unlocking dreams one door at a time, and enjoys spending time on the Upper Eastside beaches of Brigantine. He supports local businesses throughout the island and Mike and his wife Gerri have been married for over twenty years and are the loving parents to Julia, John and their dog Sheamus.