Brigantine Police Department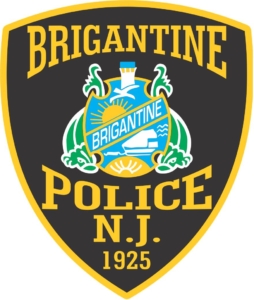 Chief Tom Rehill
Police Department
Email: trehill@brigantinebeachnj.com
Phone: (609) 266-7414 (Non-Emergency)
For Emergencies dial 911
Mission Statement
The Brigantine Police Department, along with the men and women who fill its ranks, is committed to "Protect and Serve" every citizen, visitor, and business owner of our community with the most efficient and reliable professionalism expected of a law enforcement agency.   We are dedicated to preserving the constitutional rights of every individual, all the while respecting their dignity and humanity, regardless of race, religion, creed or gender.
Members of the department shall always display the department values of Integrity ~ Honor ~ and Protection.
How do I Report a Street or Area Light Outage?
For Atlantic City Electric lights, click here to report the outage online or call (800) 642-3780.
Where can I find the City of Brigantine Local Ordiances
Click here to see the  Local Ordinance / City Code.
Firearms Permits
ATTENTION FIREARM APPLICANTS
The NJ State Police is announcing the statewide activation of the Firearms Application and Registration System (FARS).  Our Police Department will be implementing the on-line program on May 1, 2019.  All necessary information needed to apply is listed below.
Step #1: Visit the website – www.njportal.com/NJSP/fars.
Step #2: When you log on, you must enter the Brigantine Police Department's ORI# NJ0010300.
Step #3: Complete the online application.  Use your "official name".  You may complete the application using a smartphone, mobile device, laptop, or desktop computer, but you will NEED TO PRINT THE IDENTIGO FINGERPRINT FORM.  When deciding on how many permits you would like to get, remember:
One permit is required for each handgun you wish to purchase ($2.00 each).
You can purchase one handgun every 30 days.
Permits are good for up to 180 Days (must be renewed after 90 days).
Step #4: You will need to submit payment at our Police Department for your ID card and if applicable your permits.  Check or Money Order only – made out to The City of Brigantine: ID cards are $5.00 and Permits are $2.00 each.
You will be receiving automated email updates throughout this new process.
Once the application is complete, you will be notified by McClaskey or Detective Ferris to come and pick up your ID cards and/or Handgun Permit to Purchase.
Please advise your references that the FARS system will email them the reference questions to be answered. Your references can complete the questions using a smartphone, mobile device, laptop or desktop computer.  Advise them to complete the questionnaire as quickly as possible in order to not delay the progress of your application.
The on-line application is application driven. Please ensure that you have entered the best phone number and email for yourself and your references.
The New Jersey State Police website provides information on New Jersey firearms laws, transportation of firearms and frequently asked questions.  Visit https://www.njsp.org/firearms/index.shtml
Handicapped Parking Permits
Temporary Handicapped Permits are available from Brigantine Police Department.  Application forms are available Monday to Friday 8:30 am to 4:30 pm (excluding holidays) at the Police Records Department. The person's medical doctor must complete a portion of the application.  Permits are valid for 6 months and may be renewed for one additional 6 month period.  There is a fee of $4.00, payable by check made out to "N.J. Motor Vehicle Commission."
Permanent Handicapped Parking placards and plates are issued by the N.J. Motor Vehicle Commission, and those applications are available at any DMV office or online at NJ MVC.
When to Call 911
How do I report a crime?
If the crime is in progress, call 911 immediately. Be prepared to provide the exact location of the event and give as many details as possible. Such details would include, if possible, a description of the actors, if any weapons were observed, a description of a motor vehicle and the condition of the victim.
Call 911 for anything related to an emergency such as:
Crime that is occurring now
Car crash
Possible drunk driver
Life threatening medical emergencies
Call (609) 266-7414 for all non-emergency related calls such as:
Offenses that occurred in the past
Non-life threatening traffic concerns
Non urgent requests for police service
DIVISIONS
Administration
The Administration Division of the Police Department is comprised of a Chief of Police and two Captains. This Division manages the everyday function of the Police Department and is responsible for such activities as policy development and review, establishing division/unit goals and objectives, training, internal affairs, billing/purchasing and budget management, assignment of personnel, community policing initiatives, and establishing Department policies and priorities.
Communications
To reach the Police Department for any non-emergency police business, call (609) 266-7414. One of our trained Operators will be able to assist you or transfer you to the appropriate person.
Detective Bureau
The Detective Bureau is responsible for conducting follow up investigations and ensuring the proper storage and disposition of property.
The Bureau receives most of its cases after officers in the patrol division have conducted a preliminary investigation and completed a report of their findings. These initial reports are an integral part of the Bureau's ability to solve cases as they provide investigators with vital information and potential leads. Not only do our detectives strive to maintain a relationship with all members of the department as a valuable source of information, they also work closely with numerous municipal, county, state and federal law enforcement agencies when appropriate. This helps maintain a working knowledge of crime trends that are happening within Atlantic County and aids in the identification suspects committing crimes.
In addition, the detectives encourage the sharing of information with members of the public.
Many investigations are initiated as well as solved through this type of cooperative effort.
Detectives have successfully used established relationships with citizens, businesses and other institutions to rapidly respond to and to solve crimes.
All crimes that are reported, which may range anywhere from major crimes, assaults, distribution of controlled dangerous substances, burglaries to petty thefts, are reviewed by the Detective Bureau supervisor and assigned to a detective for follow up based on several solvability factors with priority given to the more serious offenses. Detectives also conduct thorough investigations in matters of alcohol beverage control, Megan's Law Offenders and gather intelligence.
Detectives are typically available Monday through Saturday from 8:00 am to 11:00 pm. At all other times, detectives are available through an "on call" status to respond as needed.
Patrol
The Patrol Division is staffed by Officers who work to serve the community. The Patrol Division's primary functions are to protect life, safeguard property and protect the innocent against deception and the peaceful against violence or disorder.
The Division is comprised of four squads and each squad is led by a Lieutenant and a Sergeant. The Division's fleet comprises of marked patrol units assigned for use on a daily basis. Each marked patrol vehicle is equipped with a Data 911 computer system. Each system utilizes Info-Cop technology in conjunction with the Enforsys report writing and dispatch programs. Patrol officers take a defibrillator with them on patrol and are trained in the use of this advanced lifesaving technology, as well as, being trained in CPR and basic first aid.
The Patrol Division is responsible for responding to all 911 calls, motor vehicle crashes, first aid calls, man-made and natural disasters, fires, reports of crimes and disorderly person's offenses, as well as incorporating a spirit of cooperation with both the business community and citizens alike.
Patrol Officers are responsible for initial investigation of all crimes that occur within Brigantine. Investigations that are too intensive or complex are turned over to the Investigations Division which will be followed up by a Detective.
The Patrol Division also utilizes bicycles and motorcycles to complete specific initiatives or to address specific concerns of the community. They aggressively enforces alcohol and drug laws within the community. Alcohol and Drug initiatives range from DWI random patrols, directed motorized patrol and coordinated undercover drug operations in conjunction with the Division of Investigations.
Records
Q. How do I get a copy of a police report?
A. After any report is taken by a Police Officer, it goes through a number of stages before it is available for release. All reports are given a special incident number and each must be reviewed and approved by a Supervisor.  Once approved they are forwarded to the Records Room for processing and filing.  As a result we ask that you allow 7 to 10 work days before requesting a copy of a report.  You may obtain copies in person at the Records Window, in writing or through discovery.
Tip Line
If the information you have pertains to a crime that has already been committed or the whereabouts of a person wanted for a crime, please call Brigantine Police at 609-266-7414 or contact our ATLANTIC COUNTY CRIME STOPPERS at 652-1234 or 1-800-658-8477. Callers will remain anonymous. Or visit their website.
CONTACT
You can call the Brigantine Police Department at any time 24 hours a day 7 days a week at (609) 266-7414. For emergencies dial 9-1-1. Our mailing address is: 1417 West Brigantine Avenue, Brigantine NJ 08203.
Alerts
Click here to receive alerts.