Councilman – Ward 3
(609) 266-7600 ext. 324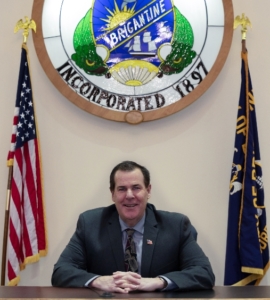 Third Ward Councilman Dennis Haney has been a Brigantine resident since 1980. He grew up in Philadelphia attending Father Judge High School, Pennsylvania State University, and Temple University where he earned a B.A. in Criminal Justice in 1979. When Dennis first moved to Brigantine, he worked in the casino gaming industry and was employed by both the Claridge and Golden Nugget. He left the casino industry and began his career with the New Jersey State Police in 1987. He retired from the State Police in December 2011 after a dedicated career as a uniformed Trooper and Detective. Upon retirement, he held the position of Detective Sergeant First Class and Assistant Unit Head in the NJSP Casino Gaming Bureau, Atlantic City.
In addition to being involved in numerous criminal investigations throughout his career, Dennis also possesses extensive experience and education in traffic safety, commercial vehicle safety, and accident investigation. Regarding this framework, he attended numerous classes, and received accreditation from various training schools including Northeastern University and the University of Missouri. His knowledge and involvement in traffic safety is wide-ranging. Dennis also has extensive NJSP experience in records and evidence management, as well as crime-related accounting management.
Dennis has a diversified background in both the public and private sectors. In addition to his NJSP career and employment in the casino industry, he has past experience within the food and beverage business. He has also been a licensed NJ real estate agent and member of the Atlantic County Board of Realtors for nearly 25 years. Additionally, Dennis has education and experience in real estate appraising and served briefly on the Brigantine Planning Board.
During his time as a Brigantine resident, Dennis has dedicated and volunteered countless hours to our youth sports and community organizations, including the Brigantine Baseball Association (BBA), Brigantine Hockey League (BHL), Recreation Soccer League, and Rams Football. He has served as a head coach within these organizations at both the local and all-star levels.  Dennis has also served as Vice President of the BBA, and Head Referee of the BHL. He is also a state-certified NJSIAA high school baseball umpire. Additionally, he has been a member of the Brigantine Elks since 2006, and is an active volunteer for their summer events. In regard to these above noted activities, Dennis was appointed to the Brigantine Recreation Commission in January, 2017.
Dennis and his wife Mindy, who is from Linwood, have been married since 1994 and are the proud parents of Eric and Dennis Jr. (DJ). Both boys have attended our local school systems and have also been involved in numerous community charity programs and events throughout their young lives.
Dennis is committed to working with City Council to keep our beautiful shore town moving forward. His goal is to provide leadership in developing and supporting policies which will stimulate our local economy bringing a positive influence to our city. Dennis has a background of fiscal responsibility, and he will incorporate his above noted experiences and knowledge in order to do the right thing in the right way for the taxpayers and residents of Brigantine.