–
Beach Fee Office
265 42nd Street
Phone: (609) 264-7350 ext. 6
Email: BeachFee@BrigantineBeachNJ.com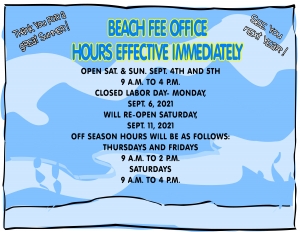 Please be advised:
The waiting line will close 30 minutes prior to the office closing.

Please note that the Beach Fee Office can accept cash or check only.

Beach tags and parking permits will be required for the summer season 2021.  If the beach is in operation you can purchase tags on the beach from the inspectors.
Beach Tag Fees
2021 Rates
Seasonal: $25.00
Daily: $10.00
Weekly: $15.00
Seniors (60-64): $8.00 through May 31.
Senior over 65: Come in with identification for a free tag! You are only allowed 1 Beach Tag per identification
Active Military Members: Tags are free (4 free per family). Also, for Veterans, beach tags are free only for that veteran.
Beach Parking Permits
2021 Rates
Seasonal:  $25.00 
Daily:  $8.00 
Parking Permits must be permanently affixed to the back of the car's rearview mirror.  They are not transferable from one vehicle to another.
–
Beach Parking Areas
2nd Street and Roosevelt Blvd.
16th Street and Ocean Avenue
26th Street and Ocean Avenue
34th Street and Ocean Avenue
38th Street and Ocean Avenue
4 Wheel Drive Permits
2021 Rates
Regular Season 4×4 Permit: January 1 – April 30 $200 | 4×4 permit pricing be raised to $300.00 on

May 1st

.
Senior 4×4 Pass: December – February 28

:

 $80 | After March 1

:

$85
The car must be registered to the senior.
All names must match on insurance and registration.  Only original paperwork will be accepted.  Copies, photos or electronic scans will not be accepted.  No Business vehicles allowed unless you have proof you own the business.
Discounts: 
Disabled may also get a discount with proof of disability: You MUST have a AWARD letter from Social Security and it MUST show 100% disability
Active Military must show Active Military ID and Veterans must provide their DD214 to get discount.
Please make sure all insurance and registration is current or you will not be issued a permit.
PERMITS MUST BE PLACED ON THE INSIDE, FRONT, LOWER RIGHT (PASSENGER SIDE) OF WINDSHIELD  OF THE VEHICLE AND ARE NON TRANSFERABLE
Jet Ski Permit
You MUST have proof of $500,000 liability insurance, without insurance no permit! The permit is to be able to launch jet ski from the cove area. The Cost for the permit is $125. Catamarans must also have proof of $500,000 liability insurance.